FAQ
Rollerboat is a new concept in land and water camping, from the idea of piloting in the driver's seat to the RV driven propeller. Here we have tried to answer some of the most commonly asked questions about Rollerboat.
A simple answer is definitely YES! The vessel is 60 feet long, 20 feet wide and 4 feet deep. This size will provide ample flotation and recreational space for the largest of motor homes, some of which range up to 45 feet and weigh up to 63,000 pounds.
The roller drive components and the support frame were designed with an "overkill" mentality. The axle, gearbox, driveshaft and bearings are the same used in heavy tractor-trailers. The support frame is engineered to support almost twice the maximum anticipated weight.
The Rollerboat is designed for use on the inland lakes and waterways and can safely handle any weather you would normally expect to encounter. Windy days and 2 foot waves are no problem for the three foot high deck.
The Rollerboat is not designed for open water and should not be operated on large bodies of water such as Great Lakes or any open salt-water venue.
The Rollerboat has a displacement hull. This type of hull builds up a bow wave with increased speed and the wave becomes a limiting factor. For a boat this length, very little power is needed up to 10 MPH, then it becomes impractical to go faster.
The rollers are designed to turn at 35 MPH. This speed was chosen because it will keep most cruise controls engaged and will give a very efficient M.P.G. With the RV turning at 35 MPH and the Rollerboat making 10 MPH, you can figure your range at 1/3 the distance you could travel on land with each tank of fuel.
It's simple! You are using your RV controls from the driver's seat. There's forward, neutral, reverse and accelerator, reverse is your brake. You steer by moving the control toggle left or right. You can cruise around the lake anywhere you want and; when you're ready, gently approach the shore and dock the Rollerboat.
The two most popular types would be "actual cash value" and "agreed amount value". Ask your insurer about the advantages of each. You will also want to ask your insurer about things like navigational limits, lay-up period, deductibles, boating course discounts and accessory coverage, etc.
Regarding your RV comprehensive coverage, at present time we find no exclusion clauses relating to water transportation. You should check with your insurer to confirm you do have coverage.
The hull carries a manufacturer's warranty, guaranteeing it to be free of manufacturing or material defects for a full 5 years. The drive train, the roller, the gears and the out drive carry a full replacement guarantee for 3 years. The electronics have a 1 year guarantee. Damage due to neglect or accident is not covered.
Trailers and fifth-wheels cannot power the Rollerboat. However, the boat is easily modified from roller power to outboard motor power. The only change needed is the additional transom, a motor and a different remote helm, one which controls throttle, shifting and steering. These modifications can be factory ordered and installed as the unit is being built.
The cost of renting a Rollerboat varies based on the season and the popularity of the lake. Prices range from as low as $600 for a three day rental to four figures for weeklong luxury trips. However; when you consider that you are essentially renting a premium campsite, a rental boat and a scenic tour all in one, the pricing makes a lot more sense.
Most marinas require an additional small boat when renting Rollerboat or a houseboat. Safety is a very good reason to have another boat or jet ski. If an accident occurs, and you are tied up, it is much quicker to get help with a small boat. You will also need another boat if you intend to do any water skiing or similar water activities.
The earlier, the better. If you are planning a trip during a holiday weekend like 4th of July, it is best to get a reservation six months in advance. Mid-week trips and off season dates are often available as little as a few weeks beforehand. Having a little flexibility in your schedule will also help you find a trip that suits your needs.
Many, if not most, marinas have restrictions on pets or smoking aboard their rental houseboats. Not so with Rollerboat, it is your home on the lake, use it as you like!
Rollerboat is built as sturdy and dependable as possible, but failures can occur. It is more likely your RV will have a problem than will Rollerboat. Every marina will have a procedure in place in event of a breakdown. It may be a cell phone, CB radio or some other means of communication.
Using Rollerboat is just like dry camping. Most RV'ers have no problem going 7 to 10 days before exhausting their fresh water or filling their holding tanks. Any marina who rents houseboats will have pump out service, and they will also have water and gasoline. Diesel will be a problem on lakes but available on most waterways.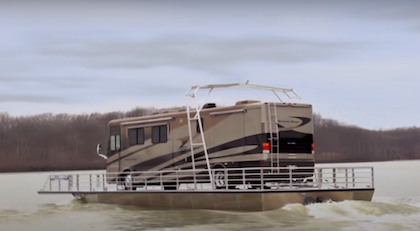 Award Winning Rollerboat Design
Rollerboat can make your RV a truly amphibious RV. You drive onto the Rollerboat, pilot the boat from your driver's seat, spend your days cruising the waters in your RV, spend your nights in your RV tied up on the beach or in some secluded cove. Perhaps, if you are so inclined, take a midnight cruise in your RV! And when your vacation is over, you simply drive off!