A New Amphibious RV Concept
The idea of an amphibious RV has been around for years. Several attempts have been made at designing a truly amphibious RV. One design had pontoons attached to each side permitting land and water operation. Another land and water design was a small barge with an attached motor, the RV was set in place by a crane. Yet another, more ambitious design, had several RVs being loaded onto a barge and a tugboat took them on a river cruise. All of these, and other attempts at land and water operations have failed until now.
The Rollerboat is for everyone who loves land and water and wants the best of both worlds.
Features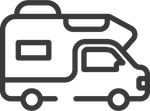 Ample Recreation Space
The Rollerboat is 60 feet long and 20 feet wide. Plenty of space at the front and on the sides to relax in your chairs or wet a line and grill your catch or just enjoy your time on the water.

Fly-by-Wire Steering
Steer the Rollerboat from the RV driver's seat. A controller is attached to the steering wheel and connected to a motor at the stern drive. You simply move a joystick for left or right turns.

Your Home on the Water
Since you've already packed your motor home with everything you need for your vacation, you're all set when you head out on the Rollerboat! All your gear is already on board - food, beverages, sunscreen, hats, fishing tackle, change of clothes - you name it and it's all there on the Rollerboat. No need to transfer anything, just drive on and go!
One Size Fits All
The Rollerboat can carry even the biggest RVs on the road. Its size has plenty of floatation to accommodate motor homes up to 45 feet in length and 65,000 pounds! The drive components are the same size used in heavy tractor-trailers, and the frame was designed to support almost twice the maximum anticipated weight! So load your gear and get out on the water!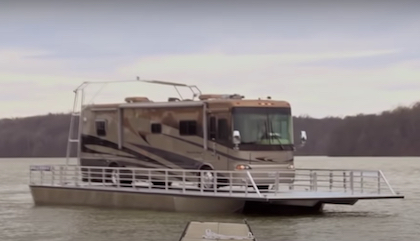 Award Winning Rollerboat Design
Rollerboat can make your RV a truly amphibious RV. You drive onto the Rollerboat, pilot the boat from your driver's seat, spend your days cruising the waters in your RV, spend your nights in your RV tied up on the beach or in some secluded cove. Perhaps, if you are so inclined, take a midnight cruise in your RV! And when your vacation is over, you simply drive off!